RH 102 Women's 1600 - 1660s Caps
Visitors: 391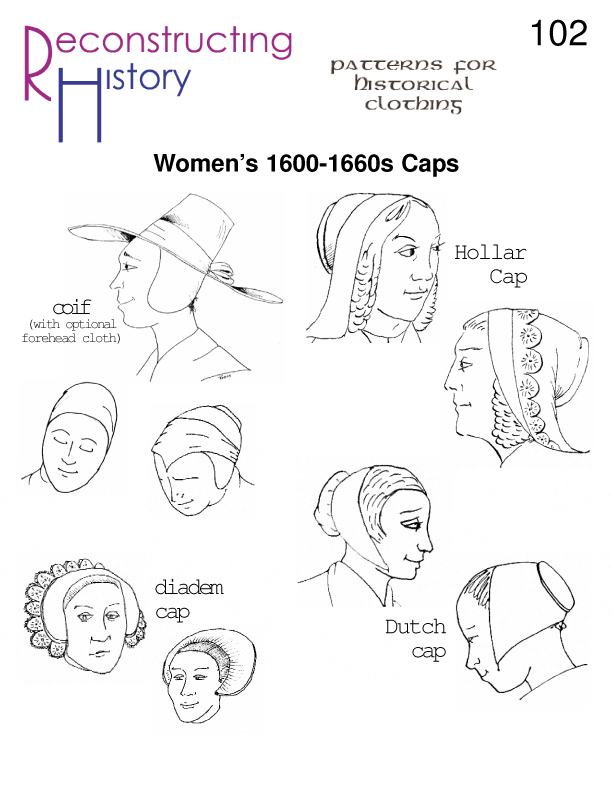 EUR 13.80 incl. VAT
Size : EUR 12.00 incl. VAT
(EUR 10.34 excl. VAT)

Cover Your Head!
Buy our full-size paper patterns with complete instructions and historical notes for coifs, forehead cloths, two versions of the Dutch cap, Hollar cap and Diadem cap for the 1600s-1660s. One size fits all. Embellishment suggestions included.
Suggested Fabrics:
3½ oz - 5 oz linen
Yardage Requirements:
Coif and Forehead Cloth " ½ yard
Dutch Cap " ½ yard
Hollar Cap " ¾ yard
Diadem Cap " ¼ yard
Notions:
all: 40/2 linen sewing thread or equivalent
diadem cap: heavy-weight buckram
optional for all: bobbin lace trim
optional for coif and Dutch cap: millinery wire
optional for Dutch cap: two oblong glass beads
© Reconstructing History
Availability:
2 on stock
Shipping costs depend on the total amount of your order. You can see an overview in the table in our
terms
. The resulting shipping costs will be shown in a summary table before finishing your order.