RH 601 Early (1520s-1540s Lady's Gown and Kirtle
Visitors: 4397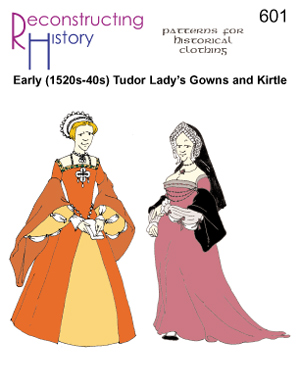 EUR 30.00 incl. VAT
Size : EUR 29.00 incl. VAT
(EUR 24.37 excl. VAT)
The perfect lady's gown for the Northern Renaissance period of Henry VIII, Katherine of Aragon, Anne Boleyn and Jane Seymour.
Full size paper patterns for 1520s-1540s Tudor Lady's Gown based on pictorial references and the work of Ninya Mikhaila and Jane Malcolm-Davies in their book The Tudor Tailor. Supportive kirtle and overgown included in package. Two sleeve styles, two undersleeves, and trained or untrained skirts with or without front split. Fits busts 30"-48" and waists 23"-41". All sizes included in one envelope. Embellishment suggestions included.
© Reconstructing History, 5118 Cotton Valley Shores, Christiansted, VI 00820, US Virgin Islands
Availability:
1 on stock
Shipping costs depend on the total amount of your order. You can see an overview in the table in our
terms
. The resulting shipping costs will be shown in a summary table before finishing your order.