M 2118 STIRLING REGENT: Top, detachable Collar and Skirt
Visitors: 5732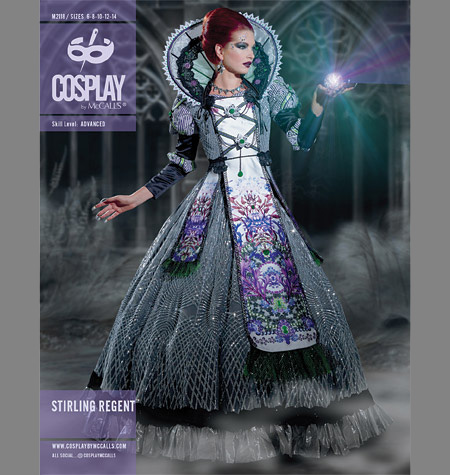 TOP, REMOVABLE COLLAR AND SKIRT
Reinforced, lined top with Rigilene ribbon, with contrasting panels, seam sleeves with contrasting crimped puffs, and back lacing. Collar B can be worn by attaching it to the loops of top A with the ribbons on the collar. The skirt C is lined and has an overskirt, a seamed zipper, a contrasting waistband and a contrasting ruffle. The skirt can be worn over a purchased petticoat or hoop skirt. All models with purchased border.
FABRIC:
A, C: sequined fabric, brocade. Contrast 1A: Printed panels of cotton sateen or twill. Contrast 2A: Lace or other unusual fabrics. Contrast 3A, 2C: Sateen, satin. B: Organza. Contrast B: Tulle. Contrast 1C: Lamé. Lining A, C: Lining fabrics.
Unsuitable for diagonal patterns.
Sizes:
A5 (6-8-10-12-14)
E5 (14-16-18-20-22)
© McCALL'S Company, NY
Availability:
Sorry, this article is out of stock!
Sorry, this article is out of stock!
Shipping costs depend on the total amount of your order. You can see an overview in the table in our
terms
. The resulting shipping costs will be shown in a summary table before finishing your order.