RH 1238 1920s Dance Bra
Visitors: 403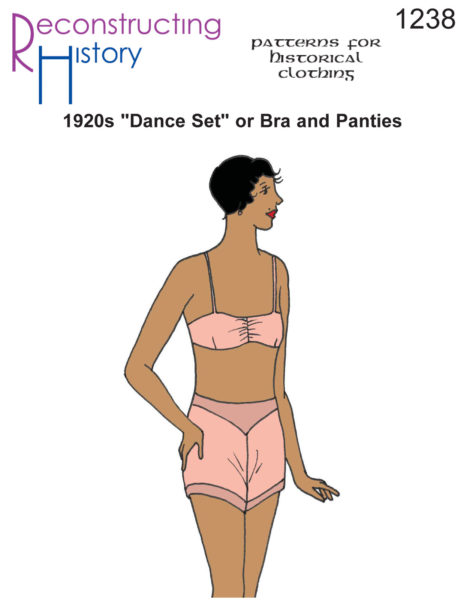 Size : EUR 16.50 incl. VAT
(EUR 14.22 excl. VAT)
Based on an original pattern from the 1920s, this brassiere and panties are the essential underthings for 1920s dresses and frocks. Yoked and plain top panties versions included.
Reconstructing History patterns are different from other reproduction patterns
We don't just photocopy old patterns and sell them to you. We use the original patterns as a basis. Then we grade the pattern in modern sizes, up to 48″ bust and 40″ waist, so they'll fit far more sizes than the original patterns ever did. And we don't just stick you with the old vague instructions either. Kass personally goes through each pattern, improving the instructions, modernizing the vocabulary and adding in all those things that the old pattern companies assumed their customers knew. Yet we don't remove the flavour of the original pattern, so you can truly experience using a vintage pattern without all the trouble of resizing and "translating" it.
All sizes (busts 28″ to 48″) come in the same envelope. Also included are assembly instructions, embellishment suggestions, and the extensive historical notes you've come to expect from Reconstructing History.
Fabric Suggestions:
silk satin, charmeuse, rayon, crepe de chine, handkerchief linen, batiste, Celanese, Bemberg, or any lingerie fabric
Notions:
drawstring or elastic for panty back
bra hooks and eyes
lace trim optional
Yardage:
2 yards 45″ wide or 1½ yds plus ½ yd contrasting fabric
© Reconstructing History
Availability:
2 on stock
Shipping costs depend on the total amount of your order. You can see an overview in the table in our
terms
. The resulting shipping costs will be shown in a summary table before finishing your order.