TV 600 1869 Princess Dress
Visitors: 2317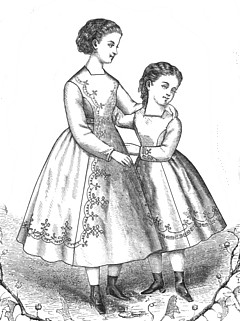 Size : EUR 18.00 incl. VAT
(EUR 15.13 excl. VAT)
This design is taken from an original pattern given in an 1869 La Mode Illustre. It was stated as for girls ages 2-4 years old. It has the front of the dress in princess lines, with the back and sides having an attached skirt. The waist line is slightly above the natural waist. The skirt is very full in the center back, fitting smoothly on the sides. It has a square neckline, and a center back button closure. The sleeve is a full length 2-piece sleeve. The dress back has a belt that can be adjusted with a button to make the garment fit more closely if desired.
This is a basic dress for a child, and is suitable for the years 1865-1875. It can be left plain, or worn with an apron, for a play dress. The original dress was heavily decorated with braid, as a fancier dress.
This pattern is drafted using modern sizing and ease for today's comfort. Yet it retains all the historical lines and style of the period.
© Truly Victorian 18925 John F. Kennedy Dr. Riverside, CA 92508, USA
Availability:
2 on stock
Shipping costs depend on the total amount of your order. You can see an overview in the table in our
terms
. The resulting shipping costs will be shown in a summary table before finishing your order.