TV 326 1880 Hermione Overskirt
Visitors: 4423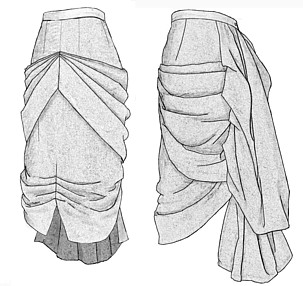 EUR 23.00 incl. VAT
Size : EUR 19.00 incl. VAT
(EUR 15.97 excl. VAT)
This skirt is drafted based on an actual garment as seen in Demorest Monthly magazine. The front consists of an apron and pannier. The apron drapes to two points with pleats at the center front and sides. Over this is a pannier, which fans to the sides. The back is left to hang in low swags, and has a square tail for floor length skirts, or is in an oval for trained skirts. The closure is in the center back. If desired, this skirt can be also be sewn into the side seams of underskirt TV225 to create a single, layered skirt.
This skirt is suitable for the period of 1878-1883. It can be left plain for day wear, or elaborately trimmed for evening.
© Truly Victorian 18925 John F. Kennedy Dr. Riverside, CA 92508, USA
Availability:
2 on stock
Shipping costs depend on the total amount of your order. You can see an overview in the table in our
terms
. The resulting shipping costs will be shown in a summary table before finishing your order.