RH 819 1780s Chemise Dress
Visitors: 4607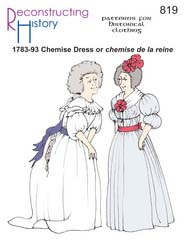 Size : EUR 21.00 incl. VAT
(EUR 17.65 excl. VAT)
When in 1783 Marie Antoinette adopted the simple muslin dresses worn by creole women in the French Caribbean colonies, she started a revolution she may one day have come to regret. The Chemise Dress (or chemise de la reine) is the first indication of the high-waisted, sheer gowns that would come to define the Empire and Regency period.
This is a full-size paper pattern with complete instructions and historical notes for a lady's chemise dress popular from 1783 until 1793 based on extant and pictorial examples. Fits busts 28"-50". One size fits all. Embellishment suggestions included.
Suggested Fabrics:
cotton muslin
Yardage Requirements:
4 yards at least 45" wide
Notions:
thread
cord for drawstrings
silk ribbon for trim
© Reconstructing History
Availability:
2 on stock
Shipping costs depend on the total amount of your order. You can see an overview in the table in our
terms
. The resulting shipping costs will be shown in a summary table before finishing your order.