RH 813 Regency Trousers
Visitors: 399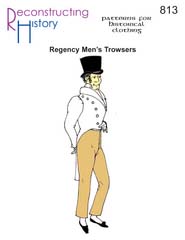 Size : EUR 17.00 incl. VAT
(EUR 14.66 excl. VAT)

Are you a sans culotte? Do you hunt down the aristocracy and drag them to the guillotine? Are you waiting patiently for the coming of Napoleon? Or do you just hate the way you look in breeches?
Well, we have the pattern for you! Men's Trowsers, the trousers of the Napoleonic or Regency period.
This is our full-size paper pattern with complete instructions and historical notes for men's trowsers circa 1800 based on extant examples and period talior's manuals. Fits waists 28"-50". All sizes included in one envelope. Embellishment suggestions included.
Suggested Fabrics:
wool, heavyweight silk
lightweight silk or linen for lining
Yardage Requirements:
outer material & interlining: 3 yds at least 60" wide
lining: 3 yds at least 60" wide
Notions:
thread
2 - 7/8" buttons for waistband
2-5 - 5/8" buttons for fly closure
buttonhole floss
© Reconstructing History
Availability:
2 on stock
Shipping costs depend on the total amount of your order. You can see an overview in the table in our
terms
. The resulting shipping costs will be shown in a summary table before finishing your order.