RH 610 Early Tudor (1490s-1520s) Men's Doublet & Hosen
Visitors: 2199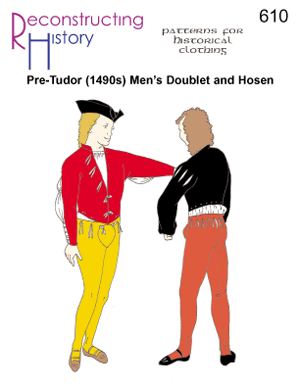 EUR 25.00 incl. VAT
Size : EUR 23.00 incl. VAT
(EUR 19.33 excl. VAT)
The perfect underclothes for the period of Ponce de Leon, Christopher Columbus, Richard III, Henry VII and Elizabeth of York.
Full size paper patterns for a transitional period through Early Tudor (Henry VII era) man's doublet and hosen for wear under pre-Tudor Man's gown (RH611) or Early Tudor Man's Gown and Jerkin (RH615). This pattern is appropriate for both common and noblemen from Portugal, Spain, France, Italy, German, England, and most other European countries from 1490 through the 1520s.
Suggested Fabrics:
Shirt: linen
Hosen: wool twill, do not use wool jersey
Doublet: wool twill or heavy silk
Notions:
Thread
(Optional) buckram
(Optional) twill tape or linen narrowware for waistband interfacing
© Reconstructing History, 4443 Goose Valley Road, Harrisburg, PA 17109, USA
Availability:
2 on stock
Shipping costs depend on the total amount of your order. You can see an overview in the table in our
terms
. The resulting shipping costs will be shown in a summary table before finishing your order.