RH 505 German Accessories
Visitors: 2889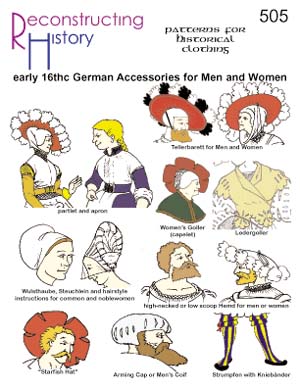 Full-size paper patterns with complete instructions and historical notes for early 16th accessories from the Holy Roman Empire including Tellerbarett ("platter hat") and Schlappe ("starfish hat") for men and women, men's coif and arming cap, linen partlet and apron, Goller (fur-lined capelet), Ledergoller (men's leather jerkin), high-neck and low-scoop shirts and shifts for men and women with smocking instructions, Strumpfen (cloth hose) with Kniebänder, Wulsthaube, Wulst and Steuchlein (German women's headdresses), and hairstyle instructions for women. Detailed instructions. Embellishment suggestions included. Historical notes. All Sizes in one envelope.
© Reconstructing History, 5118 Cotton Valley Shores, Christiansted, VI 00820, US Virgin Islands
Availability:
Sorry, this article is out of stock!
Sorry, this article is out of stock!
Shipping costs depend on the total amount of your order. You can see an overview in the table in our
terms
. The resulting shipping costs will be shown in a summary table before finishing your order.