TV 203 1869 Transition Skirt
Visitors: 31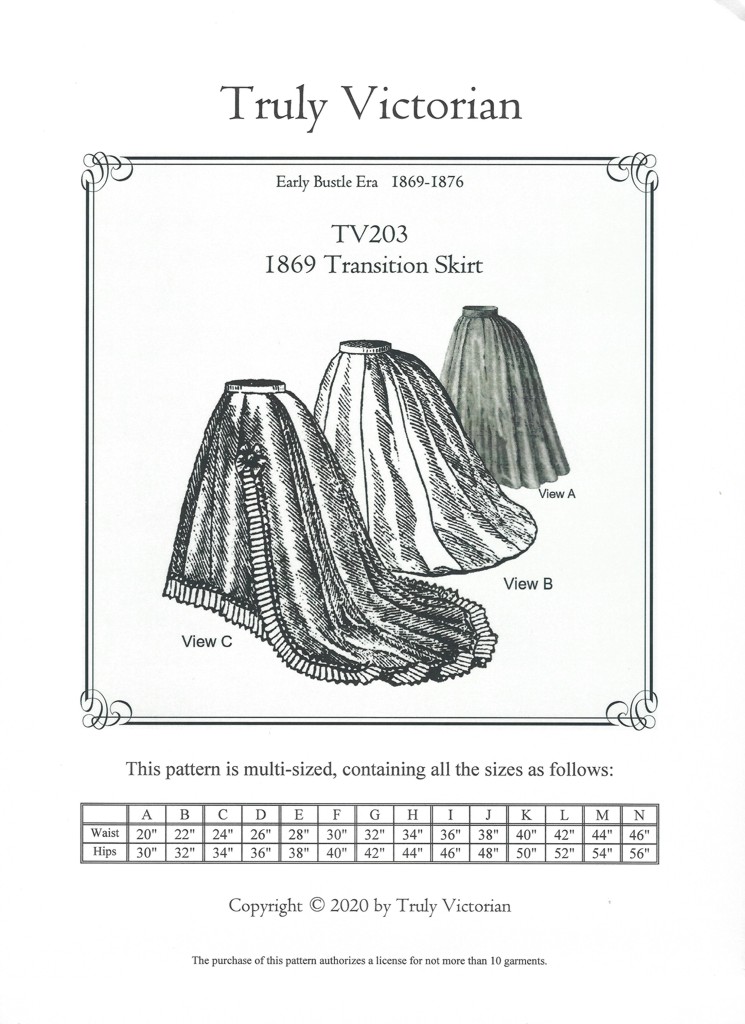 Size : EUR 21.50 incl. VAT
(EUR 18.53 excl. VAT)
This skirt is of the style used during the transitional period of 1868-1874. It will fit best over TV109 – 1869 Hooped Bustle, or an elliptical hoop. The very full skirt is fitted to the waist in front, with the extra fullness shifted to the back. It has the traditional five gores in the front. A pocket is in the right side seam. The hem is floor length in front, gets longer at the sides and back. View A has a single width back, reaching to floor length, with the placket in the center back seam. View B has extra side back panels and a half width back, reaching to a 6″ sweep length, with the placket in the left side back seam. View C has the extra side back panels and a full width back and can reach to either a 12″ medium train, a 20″ round train, or a 20″ square train. The square train can also be lengthened to any indefinite length desired. The placket is in the center back seam.
This skirt is suitable for just about any use. This skirt can be left plain, as many post civil war skirt were, or heavily decorated as in the 1870's. Mix and match overskirts for different looks. This pattern also can be used for petticoats.
© Truly Victorian 18925 John F. Kennedy Dr. Riverside, CA 92508, USA
Availability:
1 on stock
Shipping costs depend on the total amount of your order. You can see an overview in the table in our
terms
. The resulting shipping costs will be shown in a summary table before finishing your order.