RH 803 1770s-80s Frock Coat
Visitors: 4583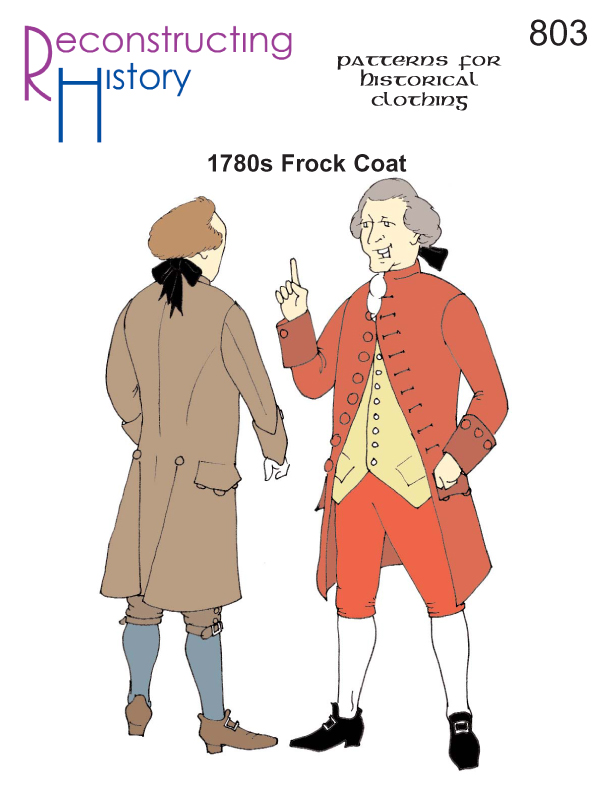 Size : EUR 22.00 incl. VAT
(EUR 18.49 excl. VAT)
Full size paper patterns for Men's Frock Coat for the 1770s and 80s with narrow cuffs and skirts, and curved front. Upper class and lower class instructions included. Fits chests 34"-54". All sizes included in one envelope. Embellishment suggestions included.
Suggested Fabrics:
wool, heavyweight silk
lightweight silk or linen for lining
heavy linen or canvas for interlining
Yardage Requirements:
3 yds at least 45" wide
Notions:
thread
up to 35 5/8" buttons for front and vents
buttonhole floss
7-5/8" buttons for arm closure (optional)
braid and cording to taste (optional)
© Reconstructing History, 5118 Cotton Valley Shores, Christiansted, VI 00820, US Virgin Islands
Availability:
2 on stock
Shipping costs depend on the total amount of your order. You can see an overview in the table in our
terms
. The resulting shipping costs will be shown in a summary table before finishing your order.