AP 1301 1860's Men's Tailcoat, Waistcoat and Trousers
Visitors: 4039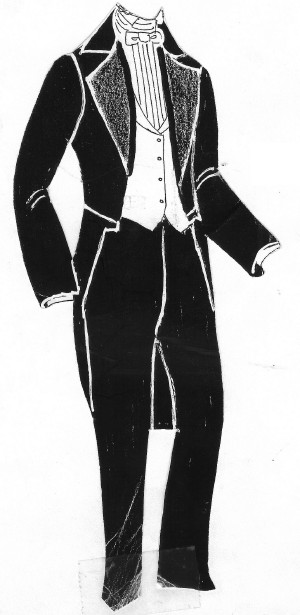 Size : EUR 29.00 incl. VAT
(EUR 24.37 excl. VAT)
Multi-Size - 34-50 Chest
This pattern consists of man's tailcoat, waistcoat and trousers. It is a simple costume and not much tailoring required. It has a large peak lapel, which is usually done in satin, silk or faille with the rest usually of wool. The vest is usually of white piqué.
Yardage & Lining - Coat - approx 2 1/2 yds 45" wide, 3/4 yd satin 45" wide, Waistcoat - 3/4 yd piqué 45" wide, Trousers - 2 5/8 yds 45" wide
© Ageless Patterns ™
Availability:
2 on stock
Shipping costs depend on the total amount of your order. You can see an overview in the table in our
terms
. The resulting shipping costs will be shown in a summary table before finishing your order.