AP 1113 1891 Bodice with Velvet Corselet
Visitors: 2671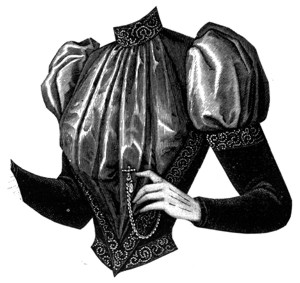 Size : EUR 29.00 incl. VAT
(EUR 24.37 excl. VAT)
36 Bust - 22 Waist
This bodice for a silk or cashmere house dress was made to imitate a full guimpe confined by a velvet corselet. In the model the corselet was of dark green velvet, and the rest of greenish gray Peau de Soie, and the trimming consisted of bands of the velvet embroidered.
Yardage - Approx 2 1/4 yds each silk & velvet 45" wide
© Ageless Patterns ™
Availability:
2 on stock
Shipping costs depend on the total amount of your order. You can see an overview in the table in our
terms
. The resulting shipping costs will be shown in a summary table before finishing your order.