AP 1006 1887 Corsage with Pleated Surah Vest
Visitors: 819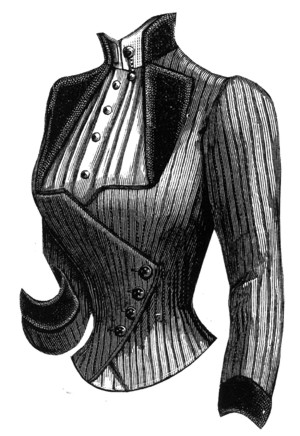 Size : EUR 16.00 incl. VAT
(EUR 13.45 excl. VAT)
38 Bust - 23 Waist
This corsage was made of striped wool in grayish-blue shades, with collar, cuffs and revers of velvet of the darkest tint in the stripes. The vest was of cream-colored Surah silk in the open front. The right front has a pointed overlapping piece fastened by four buttons, with a triangular opening at the top and a small space at the bottom in which the vest is displayed.
Yardage - Approx 1 1/2 yd Stripe, 1 yd velvet, 1 yd Surah Silk 45" wide
© Ageless Patterns ™
Availability:
2 on stock
Shipping costs depend on the total amount of your order. You can see an overview in the table in our
terms
. The resulting shipping costs will be shown in a summary table before finishing your order.