AP 1004 1897 Corset for stout figure
Visitors: 2558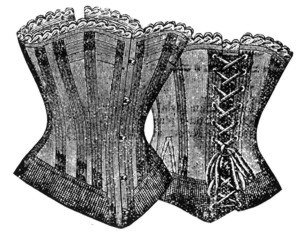 Size : EUR 19.00 incl. VAT
(EUR 15.97 excl. VAT)
Multi-Size - 32-48 Bust - 20-36 Waist
The corset was made of light gray twill stitched with red silk. It has a piece of stout elastic webbing set all around the bottom. The seams are strapped and decorative lace at the top.
© Ageless Patterns ™
Availability:
2 on stock
Shipping costs depend on the total amount of your order. You can see an overview in the table in our
terms
. The resulting shipping costs will be shown in a summary table before finishing your order.